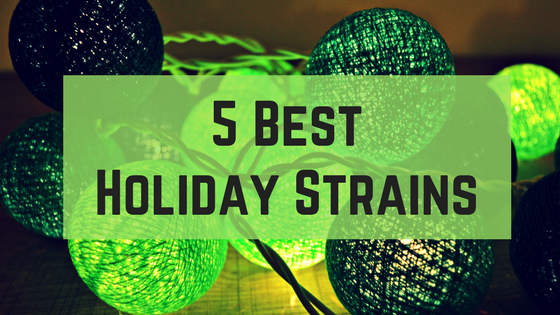 The holidays are upon us and that means family get-togethers galore whether you like it or not. If you haven't already learned that cannabis makes such events even better/tolerable, it is time to get with it! Not sure what to purchase? Never fear friends, you've got Our 5 Best Holiday Strains to help you with your cannabis shopping list this season.
That's when Santa shows up, right? I mean, maybe if you stay up til midnight while SMOKING some midnight, you will catch a glimpse of the big guy in red himself.
Midnight is a sweet tasting hybrid with notes of diesel throughout. It is a very middle of the road strain, producing a pleasant and manageable high. Inciting feelings of happiness and creativity, Midnight is a great strain if you're looking for a light, airy experience.
Barbara S. reviewed Midnight for our website and says,
"This strain is great for []. When I have this strain no need for prescription pain relievers. [T]his is my go to pain med."
There aren't any Zelly's in my family, so if she doesn't show up to get her gift that's MORE FOR ME! And isn't that the true spirit of Christmas?
Zelly's Gift is a stinky sativa with hints of lemon and just citrus overall. People are going to smell the Zelly's Gift in your pocket before you enter the room. Users feel uplifted and energetic after enjoying this strain. You aren't going to want to sit around with Zelly's Gift, it is a strain of cannabis you are going to want to share with friends and be social with.
We loved this review from 'Skibunni 4vr',
"Only time I had this strain before was when I went to whistler last year, it's a local west coast delight. Tasty snack and great to sample befor[e] enjoying any outdoor activities. Nice burn.
All joking aside, this strain truly is a gift from God, if that's your thing. Girl Scout Cookies might one of the best strains in cannabis and
Budderweeds
of Canada has been blessed with some great GSC!
A pungent hybrid, Girl Scout Cookies could be the most sought after strain of the last few years, both in Canada and in the United States. Heck, we bet they're even jonesing for some GSC in Amsterdam, it is just that good. Get happy with this earthy Cannabis Cup winner and see what all the fuss is about.
We know the story goes that it led the three wise men to Jesus, but forget the North Star, keep your eyes on the Pink Star this Christmas Eve.
Pink Star is an earthy flavored indica, noted for its intense body high and out of this world potency. With hints of diesel, Pink Star truly packs a punch that produces feelings of relaxation, happiness and even euphoria.
Check out this review from 'Walleye Fishking' of Manitoba,
"Yes Yes Yes get this bud! Sweet and tasty and very potent…Big buy recommendations"
And for those of you who would rather just have a quick joint on a walk around the block with cousin Mike after Christmas dinner, we offer Canada's best pre-rolls.
Each pre-roll comes in its own plastic tube, masking the smell and helping to keep your little secret to yourself. Of course, you can and should share these one gram joints with friends and family, while toasting with a little eggnog perhaps? When you don't have a pipe and can't or don't want to roll any more joints, our pre-rolls are there to save the day!
'Ludmilla' tell us about their experience,
"Really discrete! Wow! I loved this hybrid too, it's super well balanced!"
Don't forget to check out which
Budderweeds
premium products
each province is offering through
Ontario Cannabis Store (OCS)
,
Alberta Cannabis
,
BC Cannabis Store
or
Societe Quebec de Cannabis
' websites.