Linda Horan was dying when she sued the state of New Hampshire. She was 64 and in the midst of
late stage
[] of the lung. As a former labor activist, fighting for her rights was not a new concept for Horan…but she was fighting for something new this time.
Linda Horan wanted the right to use cannabis. New Hampshire has legalized
medical cannabis
– several years ago – but in November of 2016 when Linda sued, there had been no dispensaries to purchase that medicine from. Linda just wanted a medical card and the chance to utilize the medicine she could obtain from Maine back at home in New Hampshire. But because the medical program wasn't set to be officially up and running until the next year, lawyers for New Hampshire state argued that issuing a card to Horan before would limit their control of the distribution of cannabis. But, Horan might not be alive when the medical marijuana dispensaries officially opened in New Hampshire the next year – why not let her use medicine the residents of New Hampshire have already approved? All things considered, when he ruled in late November of 2015, the judge felt Linda had a valid enough point to side in her favor.  Linda was "over the moon."
The Portland Press Herald 
quotes Linda after the verdict
,
"It really hasn't sunk in," Horan said. "I'm in tears – tears of joy. Not just for me, but for everyone else who will have the opportunity to get the medicine they need. If I'm going down, I'm going down swinging."
Just a few days after Horan received her state-issued card, something remarkable happened.
Patients
that had been waiting for years started to get some incredible mail. 
UnionLeader.com reports
,
"The court ruling applied only to Horan, but just days after the ruling the state started mailing ID cards to 100 patients."
Linda Horan passed away on Monday, February 1, 2016. She was in the company of those she loved when she passed. She was still just 64.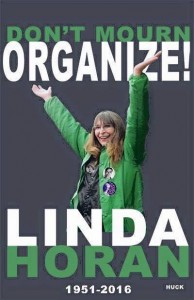 Linda wasn't expecting to live for much longer when she decided to sue the state for access to cannabis. She just knew that she had a voice and a right to express it. We should all take inspiration from Linda who made it a point to never give up.